A new leisure project at puerto marina benalmadena
A recreation area in the heart of the marina.
2015 comes full of surprises for our hotel MAC Puerto Marina Benalmádena and all guests that will visit us in the forthcoming months! The Benalmadena marina will stand out this year with a new image linked to enjoyment and fun. Puerto Marina and the Sea Legends, a project full of leisure, artistic and circus activities with one element in common: the sea.
Puerto Marina and the Sea Legends is the name of this great project which will illuminate the alleys of the marina this year with dances, music, shows, theater, food and culture. The project kicks off on the 28th of February with a really busy agenda until June and then again in September. The first event will be the Mare Circus, taking place on the 28th of February and 1st of March, and it will be followed by another 3 great fairs:
Olive fare, from the 5th to the 8th of March
Seafood fare, from the 19th to the 22nd of March
Cultures fare, on the 28th of March.
There will be something for everybody, and foodies will also enjoy events such as the Mini chef on the 7th of March or the Show cooking on the 21st of March.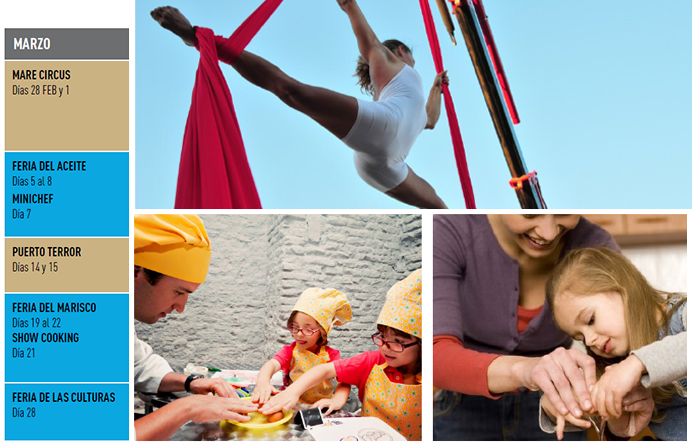 It will be, no doubt, a fantastic summer for everybody. If you do not want to miss Puerto Marina and the Sea Legends, the hotel Mac Puerto Marina Benalmádena is your best bet. This 4 star hotel with underground car park in Costa del Sol offers a unique location between the marina and the Torremolinos beach, ideal now also if you want to enjoy this great leisure offer that is being presented to all of us.
Check now availability and exclusive web offers.
Categories: blog, Eventos, Mac Puerto Marina Benalmádena, Málaga, Ocio y Deportes
« What to do in benalmadena during the christmas holidays
Spring holidays in Costa del Sol »